Goessman Laboratory Renovation
The complete renovation brings the laboratory up to UMass standard providing modern safety, accessibility, and teaching infrastructure while maintaining some of the original features of the existing laboratory.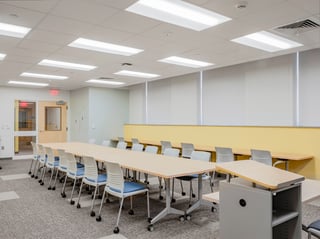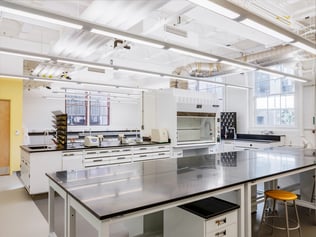 Photo Credit ©Keitaro Yoshioka
The intent of the project is to modernize an existing former research laboratory to serve as a new chemistry teaching lab. The project refurbished the existing casework and utilized existing equipment where possible both saving money and retaining some of the feel of the old laboratory space.
Existing wash down fume hoods and associated ductwork were decommissioned and removed. Egress routes were modified and a new classroom space created next door to create a modern lecture and chemistry teaching suite.
In addition to the large instruction laboratory the project includes a lecture and discussion space designed to be used for remote instruction and recording of lectures of web based platform access. The lecture classroom space is equipped for distance learning and lecture podcasting allowing for a multitude of teaching formats and digital support for the in person experience.
The instructional laboratory space provides modern fully accessible, efficient teaching environment for hands on experiment based learning.