Recently at Matz Collaborative Architects we've started a new, bonding tradition of going out to lunch on Fridays. While we won't always stick to Framingham, our goal is to try every restaurant and eatery in the City. There's a really great restaurant scene growing in Framingham and we're excited to explore and enjoy it together.
This week we stopped by the venerable Framingham institution: Ken's Steakhouse.
IT'S A TRADITION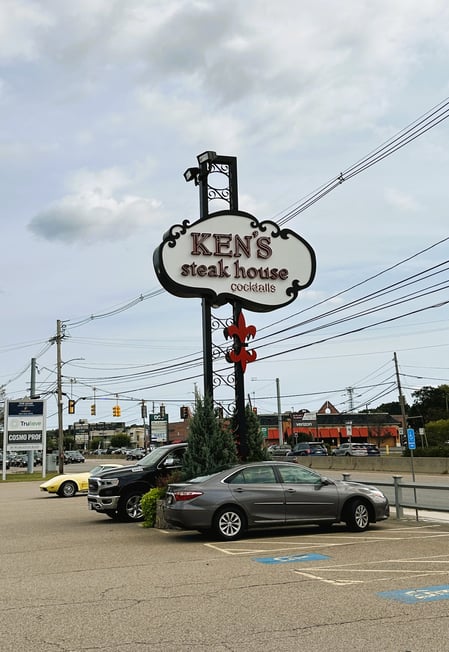 Ken's Steak House has a long Metro West history and is, of course, nationally known for its dressings, sauces and marinades. Yes, it's that Ken's Steakhouse. Ken's is in many ways a historic landmark in the area dating to the early days of what was at one point referred to as the "Golden Triangle" of retail developments in the Framingham/Natick area. Most refer to it today simply as the "Mall Area".
Ken's street presence has remained consistent for decades. The iconic sign and distinctive façade has been a landmark along Route 9 for as long as anyone can remember.
The interior of Ken's Steakhouse exudes a captivating atmosphere, reminiscent of restaurant institutions of yesteryears. This is rare in today's fast, casual dining scene of wide open interiors and dramatic spatial articulation. Ken's presents a sprawling scale while defining individual experiences in compartmentalized dining rooms, each with a distinctive feel and style. Glimpses into adjoining spaces give a sense of continuation, but prevent guests from a complete view of the entire restaurant from any one space. This creates both anticipation and a notion of grandeur. There's also an intimacy that's not common in large restaurants, which is possible with a layout like this.
Passageways adorned with charming Dutch doors connect adjacent dining areas. Cozy bar and service spaces tucked away in between are both functional and build complexity. These aren't decorative, but are in fact well considered service spaces which reinforce the authentic feel of this restaurant. This thoughtful layout, though perhaps a function of organic expansion over decades, adds to the overall experience of the space. It's unique in its traditionalism. Ken's adherence to its original ambience has in itself presented an environment not typical in today's restaurant scene, and not easily replicated, authentically, without the passage of time.
On separate occasions we had an opportunity to try both the dining room and the lounge. This time when requesting the "best experience", without hesitation we were brought to The Lounge. With deep wood tones, traditional refinements, and several large television screens, the space feels comfortably upscale, like a British public house. It would be an equally fine place to take in a game, or have a club sandwich, as one in our party did.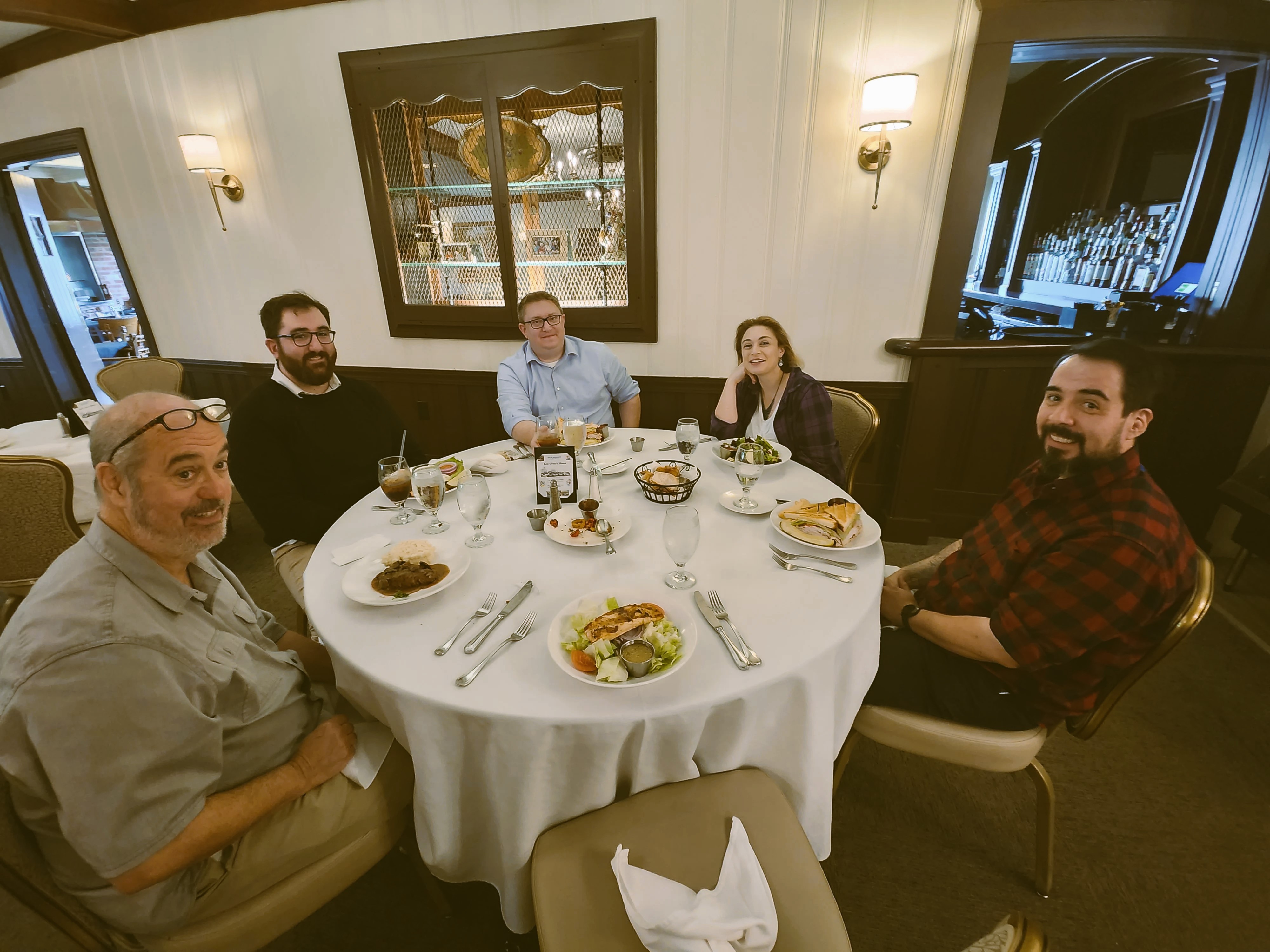 CLASSIC FOOD AND SERVICE
The traditional feel extends to the food and service. We had a delightful waitress, who was more than accommodating when one of us had multiple questions about the menu and specials. The staff is confident and abundant, suited perfectly for the environment. The food fit right in, with such items as a traditional house salad (boasting that its recipe has been unchanged since 1941), lobster bisque, French dip sandwich, and, of course, steak prepared in a variety of cuts.
Ken's is a great example of why we set out to try every restaurant in the City of Framingham. There is such a rich variety of restaurant experiences here and Ken's sets the bar for authentically traditional.
#KensSteakHouse #FraminghamRestaurants #Framingham #FraminghamFoodFridays #MatzCollaborative #Metrowest #Restaurants #SteaksHouseFood #StudioEats